The latest ESEPOA news, events, and website updates can be found here. The free Adobe Reader may be required to view some attachments.
Subdivision Plats added to our website!!
7/30/2020 at 7:09pm
I have just uploaded pictures of the Lot Plats for East Shore Estates. They are at the bottom of the Documents section under Subdivision Plats.

When they were made some parts of them were not very clear so there are several versions of some of them to try to get legible copies of all sections.

You should be able to identify your lot and read the lot numbers in case you don't know your lot number.
Bob Dillon, Webmaster

ESEPOA Annual Membership Meeting 2020
6/8/2020 at 3:33pm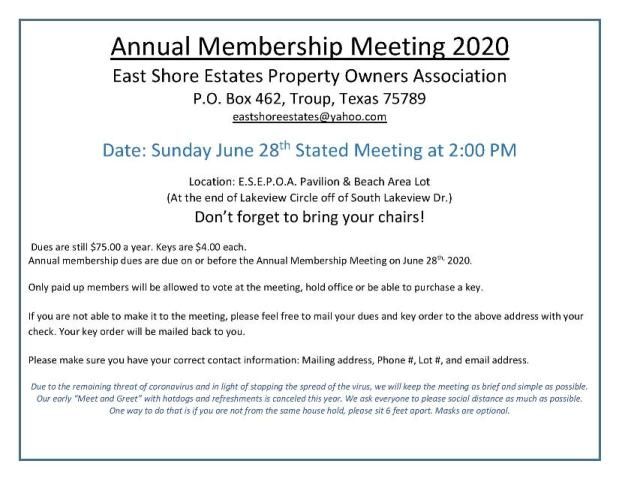 Covid 19 Annual Meeting Notice 2020
3/20/2020 at 12:06pm
03/20/2020
Notice
East Shore Estates Property Owners Association
April 2020 Annual Meeting
Due to the growing concerns over the COVID-19 VIRUS the board has voted to postpone the annual meeting until a later date when things have cleared up. Letters will be sent out showing the new date as soon as we know when a safe date will be.
The locks for the boat ramp gates 1 & 2 and also the Pavilion gate will not be changed until after the annual meeting. So please continue using your key that has 2019 stamped on it until we are able to have the annual meeting.
Annual Dues, will still be due in April and can be mailed to: E.S.E.P.O.A., P. O. Box 462, Troup, Texas75789. Dues are $75.00 a year and each key is $4.00. You will be able to pick up your key at the meeting once that has been scheduled or we will be happy to mail them to you when we make the changes.
Stay safe and healthy, and if you have any questions please let us know by e-mail.
Sincerely,
E.S.E.P.O.A.